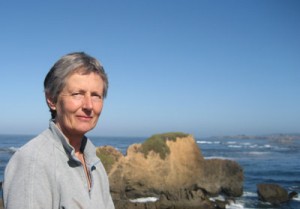 I first came across the Alexander Technique in 1979, when I started having lessons with Elisabeth Walker in Oxfordshire.  I came to the Technique, as so many people do, because of frustration with back pain, which was either caused or certainly exacerbated by my life as a viola player. It seemed there must be a better way to really make a difference to the chronic pain other than the weekly visit to the osteopath, whose good effects lasted only for a day or two.
Not only did the Alexander Technique help me to sort out my back pain, it also transformed my viola playing, and took me through three pregnancies and childbirth.
Major insights from this work included
* the realization that I could take conscious responsibility for my self.
* understanding that 'getting out of your own way' and allowing your body to do what it knows, is sometimes all you need to do.
* that I had some choice about the level of tension in my body.
After some years of lessons, my life took me in a different direction, and although I never forgot what I had learned, it ceased to be a regular part of my life. Some twenty or so years later, I found myself drawn towards Zen Buddhism, which reawakened memories of my Alexander lessons.
In a serendipitous coming together of circumstances, I found myself back in my home town of Oxford after 15 years in California, embarking on the full time three year training to become an Alexander Technique teacher. I finished my training at the Oxford Alexander Training School (Director: Stephen Cooper), in July, 2011.
I find these three strands of my life – musician, Zen student and Alexander Technique teacher – to be delightfully and beneficially interwoven, and I feel incredibly lucky to have stumbled across the Technique at the time that I did.